Dianna Simgron
General Information
Gender
Female
Age
28
Born
April 30, 1986
Dianna Simgron is the sim version of Dianna Agron. She plays Quinn Fabray in all of the SIMGM Glee spoofs, and she is voiced by The Boss.
She has posted one of her live chats on tumblr, however she didn't do it again due to the fact all of the questions were personal questions that involved Lea Michsim.
Lives with Lea Michsim.
Is apperantly a "troll", according to Lea Michsim.
Ships "Simchsim" which is herself and Lea Michsim. (The sim version of 'Achele')
Often steals Lea's clothes.
Shares at least 2 cats with Lea Michsim, however one of them is currently lost.
Her twitter is @DiannaSimgron
Dressed as Alice from Alice in Wonderland for Halloween 2012, and as 'Glee' for halloween 2013.
Has an obsession of Charlie and Magick.
Has kissed girls before and thought it was fun.
Likes to tickle other Sims in free will. http://simgm.tumblr.com/post/44426279862/fun-facts
"

I asked for development, and they gave me a wheelchair.

"

—Dianna Simgron, Glee Season 3 Spoof BTS
"

Where do I get my inspiration? From everywhere, except this diner because there's nothing in here but an apple pie and some extras. What the f**k am I suppose to do with this apple pie? Take a picture of it, this isn't Instagram?

"

—Dianna Simgron, Simtendo 3S TV Commercial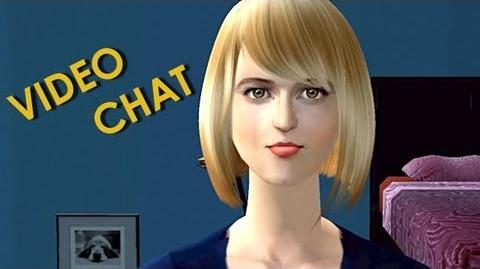 Community content is available under
CC-BY-SA
unless otherwise noted.