Michael Aguilar
(also known as
ChickenSoupBoy
) is a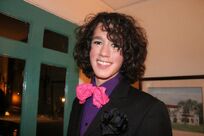 SIMGM
cast member. He presently voices
Kurt Hummel
 and
Jesse St. James
, in the SIMGM 
Glee
spoofs. He also controls
Chris Colfsim
's
Twitter account
.
Biography
Edit
Michael started acting at the age of 8, doing theatre, and landed his first professional job at a local theatre when he was 12. He has appeared in over 30 different plays/musicals. In addition to this, he has appeared on the TV series Nashville several times as a day player, and has appeared in an extra in the film 42. He is also a featured extra in the upcoming film The Identical, starring Seth Green and Ashley Judd.
Michael started making YouTube videos in 2007 as ChickenSoupBoy and became very active in the YouTube voiceover community. His first VO experience was on a Sims2 series called Expelled. He then started a series called Just Teens and things started to change, as he was getting offers to work on other shows.
Michael found the Glee spoofs in 2011. He immediately contacted the Boss and asked if any roles were going to be open. She quickly responded and said that if any roles became available she would let him know. He then received a message asking to audition for Kurt because her brother didn't really want to voice the role anymore. Michael quickly sent in an audition and was told pretty quickly that he was cast as Kurt/Chris.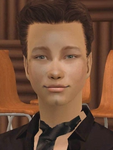 Voice Acting
Edit
Michael provides the voices for the following characters:
Michael, along with Will Moring, are the two cast members that have been with Simgm for the longest.
As Kurt's voice is higher than Michael's natural voice, he reads the script several times and watches the episodes being spoofed, attempting Kurt's mannerisms when recording.
Michael sometimes puts on an accessory, such as a scarf or a pair of sunglasses, to feel as if he actually is Kurt, while recording. He believes this to be important, as it helps him to become the character when recording.
Recently completed two different horror films for two different film festivals: Death House and Apartment 23.
Whenever he auditions for a project, the first thing he is usually asked is "What is this Glee spoof you're on?"
Michael is represented by DS Entertainment, and they are very excited about SIMGM's future.
Michael works as a social media socialist at a store called Zoe's. You can find them on Twitter , Instagram (ZoeForestPark) and Tumblr .

YouTube Channel
Community content is available under
CC-BY-SA
unless otherwise noted.