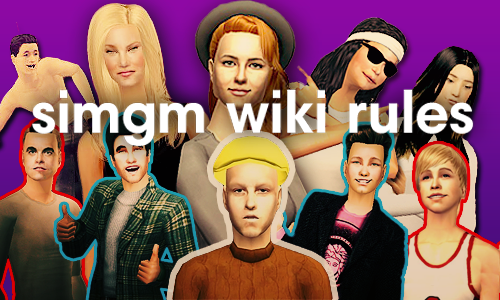 If you do any of the following things you will receive a strike.

If you do something we don't like that's not on this page, you will also get half a strike. Strikes will be result in a ban, how long this ban will be depends on the rule you've broken.
The Rules
SIMGM
Character or actor bashing isn't allowed.
Anything having to do with the Gleedo goes to This wiki. We will remove anything gleedo related on the wiki, and vice versa with the spoofs on the Gleedo Wiki.
The Site
Spamming (advertising for one's business, website, etc.)
Do not ask to become an admin, if it's meant to be, it'll be.
Categories are meant to sort the articles by their main topic. Adding more categories than necessary to define an article is considered spam.
Removing content based on your dislike of a particular pairing is considered vandalism.
Sexually explicit content or pictures is not allowed.
Allowed Words: Bitch, Damn, Hell, Frick, WTF, ect. Not Allowed: F*ck, Sh*t, ect. These must be censored.
Other Users
Do not be rude to other users, they're here for the same reason as you.
Harassing or threatening another user (especially regarding one's race, gender, nationality, religion, or orientation)
Editing or deleting other user's talk pages is never allowed.
Do not ever edit another users page without permission.
Other Rules
No more than 4 videos are to be displayed on a page. If you wish to include more than 4, you must provide links to them.
When uploading pictures from a video, please make sure you have the video on the highest definition before taking a screenshot (or any other method). This insures that we have the best quality pictures for the wiki, not anything blurry.
Community content is available under
CC-BY-SA
unless otherwise noted.