Sim-Con 2012 Panel is the 8th minisode, and the second special minisode, in the SIMGM Glee spoof series. It was released on July 26th 2012, and was based on the Glee panel at Comic-Con 2012.
The Glee cast is visting SimCon where fans can ask them questions.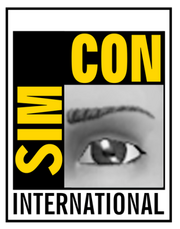 Main article: Sim-Con 2012 Panel Quotations
Voice Cast
Edit
Additional Random Fans
Edit
Note: These people submitted questions to the cast as well as an audio recording of their question.
rainbowarcanine, hungryturtle1o1, Amy M, Jean M, magicmumu, SnowyDayz, Taylor, Dearbhla M, Rebecca B, Andrew M, Yang C, dedu98, Abby, Julia D, Krista, Molly K, Valeria C, Vanessa B, Astrid D, Swagerific-kid, ihavebigplansfortumbler, Saint-kat-shady, snsdz, dreamsweep, Rachel sydneybeans7777, Breezy D, Troll Parrot
The minisode spoofs Comic-Con, which some of the Glee actors attended.
Dianna Simgron was at Sim-Con, however Dianna Agron was not at Comic-Con.
This is so far the longest minisode.
This is the first time where nobody voices a Sim of the opposite gender.
This is the second time where the cast, rather than the characters, appear; the first being Glee Cast Discovers Glee Spoofs.
One of the fans who submitted a question is Yang Chen, who would later voice Ian Simnan in Brainstorming With RIB.
Main article: Sim-Con 2012 Panel Quotations