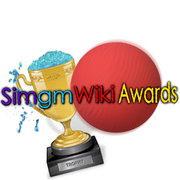 The SimGM Wiki Awards is the SimGM based Award show by the SimGM Wiki. These awards are fan-based and are decided upon by the members of the SimGM Wiki. The awards will be based on both the season two glee spoofs and the season three spoof, as well as the minisodes, PLL spoofs, ect. The voting for the first Wiki Awards is set after the last season three glee spoof,
Goodbye National Props
, but before the
Gleedo
. The SimGM Wiki awards are approved by
The Boss
.
The Awards will be hosted by Stephanie Samara LeBlanc and Songsinabox.
Voting Process
The voting process is as follows: The week of voting, there will be a created page with links to different kwiksurveys, where you will pick who you want to go on to the voting process. Then, the top 4 voted for choices will go on to the voting process.If there is originally only four options, then the top two will go on. If there is a tie in the votes, it will be expanded to top 6. If there is more, 6 will be picked randomly. Then, another page will be created with links to different kwiksurveys which will be the voting process. The winners will be announced before the Gleedo.
2013 SimGM Wiki Awards
Categories
Best Season Two Spoof Episode
Best Season Three Spoof Episode
Best Overall Duet in a Spoof
Best Overall Duet not featured in a spoof
Best Overall Group Performance
Best Girl group Performance:
Best Overall Original Song
Favorite Male Character
Favorite Female Character
Favorite Guest Star
Favorite Minor Character
Favorite Glee spoof Minisode
Favorite Special Video
Favorite Off Set Video
Favorite Other spoofs
Favorite Voice Actor (Of The and her Siblings)
Favorite Voice Actor (Excluding The Boss and her siblings)

(any ideas/suggestions for other categories can be left in the comment section below)
Community content is available under
CC-BY-SA
unless otherwise noted.