William Schuester (more commonly known as Will or Mr. Schue by the glee kids) is a character from the SIMGM Glee spoofs. He is based on the Glee character of the same name, and is played by Matthew Morrisim, the Sim equivalent of Matthew Morrison.
Biography
Edit
Season Two
Edit
To be added
Season Three
Edit
The Spanish Heart
Edit
Mr Schue openes the spoof with a ridiculous costume which Principal Figgins tells him is offensive to students. He sees nothing wrong with it, and Principal Figgings gives him a poker face. His next scene is with David Martinez about getting a tenor and seeing if he can teach him some Spanish. David teaches him some basics but Will replies with an odd answer. David then tells him that he needs more courage, but Will being Will didn't understand and thought he was hitting on him.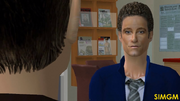 The next scene is with him and David again, but in the choir room. He says to everyone that he isn't a racist, but then Brittany tells him over wise. To prove himself, he introduces David to everyone. Sugar thinks he is hot; Rachel wants him in bed and Kurt's ovaries exploded because of him. David then leaves after having a discussion with Santana in Spanish, and then leads him to think he should teach history instead. The whole glee club said yes.
Main article: Will's Quotations
Originally Will's Sim was named Matthew Morsim, but was changed to Matthew Morrisim.
Is constantly being hinted to being a pedophile. For example, in The Brown Unicorn Project he accidentally calls Booty Camp, "Booty Call", and in The Glee Club Gets Tested , he says that he is very "touchy" with his students. This may be a reference to the Pedo!Will. He finally admits his feelings for Finn in Goodbye National Props.
Is considered by many to be a "man-whore", as revealed in Fondue For Two Part 1.
Community content is available under
CC-BY-SA
unless otherwise noted.